AD
Consider an Online Program Currently Accepting Applicants
View more online criminal justice programs currently accepting applications.
AD
Consider an Online Program Currently Accepting Applicants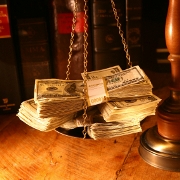 Anyone contemplating working in the criminal justice field has a natural interest in which jobs pay well and which do not.  That natural curiosity has to be tempered with the practical reality that the best paying criminal justice jobs may not be the fastest growing jobs and, for obvious reasons, may be relatively difficult to get (there's more competition because everyone wants to be well paid).
There is also the problem of defining what a "criminal justice" job actually is, because a two-year or four-year degree can be followed up by advanced degrees qualifying you for jobs that the CJ degree alone would not.  For example, a CJ graduate who continues on to law school, or even medical school, would qualify for jobs that are higher paying, but not available to people whose only degree is in criminal justice.
In reading the rest of this article, also keep in mind that there tends to be geographic variation in pay, with higher pay generally available in locations with higher costs of living.
Highest Median Annual Salary for Direct Criminal Justice Jobs
Leaving aside those jobs that require advanced degrees in other fields (lawyers, judges, etc.), the Bureau of Labor Statistics salary information indicates that the following direct criminal justice jobs—those reasonably possible to obtain with a degree in criminal justice—have the highest median annual salaries (listed highest salary to lowest):
First-line supervisors of police and detectives—$81,250
Detectives and criminal investigators—$75,720
First-line supervisors of correctional officers—$58,780
Transit and railroad police—$58,560
Police and sheriff's patrol officers—$56,260
Fish and game wardens—$55,670
Probation officers and correctional treatment specialists—$52,110
First-line supervisors of other types of protective service workers—$48,620
Private detectives and investigators—$48,610
Correctional officers and jailers—$43,300
Note that two of the top three jobs—and three of the ten—are supervisory jobs. In all likelihood, people in the supervisory jobs put in considerable time before making the supervisor category, then additional time as a supervisor before reaching that job's median salary.
Highest Median Annual Salary for Legal Jobs
Criminal justice graduates who continue their education, or find a way to cross from one career path to another, may find themselves working in the true "legal" realm.  The Bureau of Labor Statistics salary information indicates that the following legal jobs have the highest median annual salaries (listed highest salary to lowest):
Lawyers—$130,490
Judges, magistrates, etc—$110,940
Administrative law judges, adjudicators, and hearing officers—$ 88,340
Arbitrators, mediators, and conciliators—$75,550
Miscellaneous legal support workers—$60,070
Remember—Top Pay May Not Mean Top Value
Everyone is interested in money, of course, but it also pays to take a pretty close look at the overall "value" of a job to you. This includes monetary compensation, but also extends to such things as:
The cost and time required to obtain any requisite education
Whether the job offers geographic mobility, if you're the kind of person who likes to move around
Any safety concerns you might have about the work
How the basic job requirements affect the other areas of your life (i.e. on-call duties, nontraditional hours of work, need to travel for extended periods)
Still Looking for a Criminal Justice Program?
Below are some of the top criminal justice degree writeups. You can review the program page, or schools by state to find detailed information about the degree or career.