AD
Consider an Online Program Currently Accepting Applicants
View more online criminal justice programs currently accepting applications.
AD
Consider an Online Program Currently Accepting Applicants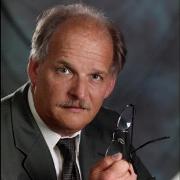 We recently spoke with Raymond E. Foster; author and former lieutenant of the LAPD. In the conversation, he shares with us his journey to becoming a police officer, his experiences moving up in the ranks of the LAPD, and his advice for aspiring law enforcement officers and criminal justice students alike.
Tell me about your path to becoming a police officer.
I had an unusual path to law enforcement. It wasn't my first choice. My first choice was to be an Air Force fighter, pilot but when I was about sixteen and a half, I found out I would never get flight status because I had sinusitis when I was twelve. When I was in high school, they had recruiters out on the campus, so I joined the Coast Guard. I went to boot camp between my junior and senior years of high school.
I went back to high school after boot camp. After I got out, I was in the reserves. By that time, I was nineteen, married with a kid, and there wasn't much else I could do. I was in the Coast Guard Reserve and I began doing security work part time.
My father was a police officer for over thirty years. I knew about the job and thought it a good transition from security. I applied and got accepted. Six weeks after my twenty-first birthday, I entered the police academy. I had no college education, though I had military experience.
All I wanted to be then was a cop. I had read The Blue Knight and wanted to be a foot beat officer. And I worked as a foot beat officer for eight years.
One day, a sergeant took me into an interview room and berated me for two hours about how I was wasting my ability as a police officer and I should promote. I wasn't going to, but my father came to my house, picked me up, and took me to Hollywood High where I took the sergeant's test. They made me a sergeant.
That's when I went to school. I was, by that time, about thirty-six. I went back to school and got my undergraduate degree, and then I got my master's degree, and I started writing. I wrote my first textbook and then a teaching job came available, and so I retired from the police department and started teaching, and continued writing full time.
Why were you so reluctant to move up in the ranks, and what propelled you to move even further?
First off, all I ever wanted to do was push black and white around, that's the most fun you can have. Every day is very different and every situation you're called upon to take charge and solve those problems. It's just a great occupation, I don't know why you'd want to leave that, and I didn't want to leave that.
When I made sergeant, the captain called me to his office. I'd never met the captain before. I used to work graveyard shift to avoid all the brass. He said, "You're going to make sergeant." And sure enough, I did.
I spent ten years as a sergeant. I enjoyed that job. I enjoyed teaching young police officers the job. Like I said, once I had been sergeant maybe five or six years, I looked around and went, "I guess I ought to try and be lieutenant." So, I studied for that test. I took that test. I was promoted.
I was a lieutenant for five years before I retired. In policing, lieutenant is about as far as you can go on ability. Above that, captain and above, is pretty political. I had no political connections. I had no mentors. They don't have to pick you. It's very political. That's the way it works. Even if you're one, they can skip as far down as they want to get whomever they want. I went because I'd been a sergeant and I'd been doing it long enough. I said, "Well, let's see what the next rank is like."
How does each rank compare to the others?
The one thing you learn very early on as a good sergeant is that they give you those three stripes not because they want you to be a policeman with three stripes. Your job is not to do cop work, your job is to supervise those who are doing cop work. That's a pretty difficult transition for most to make. The first six months for me was figuring out how that worked out. So, that presented new challenges to me. My job became more, certainly leadership oriented, and there was a lot more paperwork.
It was different paperwork. Instead of arrest reports, now I was doing rating reports, evaluations, and personnel reports. You're doing different paperwork because cop work is all paperwork, everything. It was just different. You accept it for what it is. You do the best you can, and try to be your best, and contribute as much as you can.
Did all the paperwork prepare you well for becoming a writer?
Well that was all an accident. When I started the job, cops talked about their guns, and the size of their guns. About fifteen years into my career, they were talking about the size of their hard drives. It really changed. I got a computer in the early '80s; the issue they gave us had a 512‑floppy‑disk drive, and it had no memory at all.
But when I made lieutenant, I had seventy-five detectives working for me. My boss walked in one day and said, "There's this grant from the state for a $250,000 for new technology. Do you want to submit to this grant?" I said, "Sure. When's it due?" "It's due in three days," he said.
It was a grant on integrating biometric facial recognition technology into the warrant service. Some of it was theoretical. But most of it was pretty practical, the equipment that we wanted to use. We got the grant.
I started looking around for conferences. I saw a conference in Hawaii, in Honolulu. So I called the University of Hawaii and I talked to them, and they invited me to be a presenter at the conference. I presented on facial recognition technology and it was based on the grant we wrote.
I gave the presentation and got in an argument with a guy in the front of the room, a scientist. I won the argument. Afterward, the guy walked up to me and goes, "Did you ever think about writing a book?" I said, "About what?" He says, "About police technology." It turns out he was a representative of Prentice Hall.
Two weeks later, I wrote a brief synopsis of my thoughts on what a book would look like. Nine months later, a 275,000‑word textbook was done.
Like I said, it wasn't something I thought out. I just happened to be in the right place at the right time, have the right qualifications, and have the ability to write a complete sentence.
What advice would you give to those looking to get into law enforcement?
Well, I think that it takes patience. When you're in school you're learning all these things but you're not fully able to understand the importance of what you're learning. As an adult learner, when I was in a classroom (at thirty-six years old) somebody would talk to me about social control theory, labeling theory, or some other off-the-wall criminological theory, I would look at that and go, "Oh, yeah, now I know why that happens." Because I had seen it happen so many times in my career. I think when you're in school now and you're looking at a career, it's important to realize that information is going to be very valuable to you in the future. Because you have that information now, when the situation pops up, you're going to have it already in the back of your mind of what's going on, you'll have a deeper understanding, and I think that'll make you a better cop.
Certainly, it will increase your chances in the career field. It's not enough just to get a degree is what I'm saying. You've really got to work at getting good grades, work at learning the material, because that's what's going to get you that job—and ultimately what's going to make you very, very good at it. It's important.
Any parting words?
My only advice, on a personal level, is that the people who win are the ones who continue to show up, and the ones who continue to work at it. If you don't get hired right away, or you don't get the assignment that you want right away, that's the time to redouble your efforts and to keep your eyes on the ball, keep your eyes looking forward to what you want in life. That's how you get it. People who face adversity are a dime a dozen. It's people who overcome adversity who are the real special ones, and I think you should try to be special and keep walking forward.
Still Looking for a Criminal Justice Program?
Below are some of the top criminal justice degree writeups. You can review the program page, or schools by state to find detailed information about the degree or career.