AD
Consider an Online Program Currently Accepting Applicants
View more online criminal justice programs currently accepting applications.
AD
Consider an Online Program Currently Accepting Applicants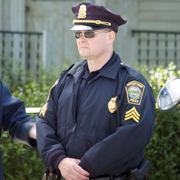 Choosing to become a police officer is a life altering decision.  The competition to become a police officer is tough because many qualified individuals aspire to the same vocation.  This means the physical and emotional demands placed on candidates are rigorous.  Once the decision is made, the process of preparation begins.  A career as a police officer is not only rewarding but is also challenging in its diversity.  There are myriad options spanning the spectrum from urban police officer to rural sheriff. Yet, there are many qualities which must be honed to become a great police officer.
Education
Education is the first and most important step to becoming a police officer.  A high school education is mandatory and, due to the high-caliber of applicants, it is beneficial to have an associate or bachelor degree.  Many colleges and universities offer criminal justice programs designed specifically for police officers.  These programs offer courses in human behavior, legal issues, computer systems and other pertinent subjects.  Participating in a college level criminal justice program provides candidates with relevant training.  This training, in turn, increases one's options when making application to become a police officer.  And once selected, the same training will aid in career advancement.
Background and Skills
Candidates must be able to pass an intensive background check.  Any type of felony will result in automatic rejection.  The integrity of candidates must be beyond reproach, requiring they admit to any previous misdemeanors, refrain from using drugs, and avoid heavy usage of alcohol. Other categories that can affect an individual's chances of becoming a police officer include:  prior job experience, the ability to speak a foreign language, and community service.  Once the candidate is ready to make application, they will be required to take a civil service examination.  Most police departments offer the exams when openings are available or will soon be available.  Study guides for the exams are available and are highly recommended.
Physical Fitness
Any person desiring to become a police officer must be healthy and robust physically and morally.  Candidates need to be in superior physical shape:  able to run two miles in less than sixteen minutes, scale a 10-foot wall, and carry a 150-pound person at least twenty yards.  Candidates are required to take physical exams that test for agility, strength, vision, and hearing.  If the physical exam is completed successfully, the candidate will have to pass a drug test and a lie detector test.
Training and Preparation
The next step involves sitting through and passing multiple interviews.  The final step in the process is to attend the police academy, where the candidate is prepared to become a police officer.  Police academies vary in length from three months to a full year.  In some states, candidates must be affiliated with a police department before attending the academy.  Candidates are advised to check with police departments in their area to find out.  If the candidate resides in an area where affiliation is not required, the candidate may attend the academy and, after graduation, make application to the department of choice.
More Education!
Once you achieve your dream of becoming a police officer, your education will continue.  You will attend seminars and workshops throughout your career.  This process of continuing education will enable you to remain current with the latest legal procedures and technological trends, allowing you to better serve your community as a professional police officer.
Compensation packages for police officers are usually very competitive and offer premium retirement packages, along with the opportunity to work with private security firms in the future.  The emotional benefits of being a police officer rival those of medical doctors:  the pride and excitement of saving someone's life and the satisfaction of contributing to a healthy, happy and safe community.  And since police officers are required to remain physically fit, they lead healthy and productive personal lives.  Police officers do, of course, experience sporadic periods of high stress and danger, which demand balanced personal characteristics.
Becoming a police officer is not easy, and the process demands time and hard work, but the goal is worth the effort.
Photo Courtesy of Tim Pierce
Still Looking for a Criminal Justice Program?
Below are some of the top criminal justice degree writeups. You can review the program page, or schools by state to find detailed information about the degree or career.